In some aspect, every business is a service business. Making sure a customer is handled effectively from beginning to end is the key to a happy customer. But many businesses struggle to keep this process in top shape. While even tiny improvements can have a big impact on both retention and increased satisfaction, it won't happen if you don't spend the time putting a plan in place.
Start With Motivating Your Employees
People don't buy from your company; they buy because of a relationship they have with someone in your company. No matter how much they need what you offer, if a customer has a bad experience with an employee, they will find another company to support their needs.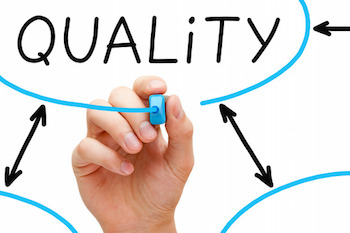 Good employees create good business. So spend the time necessary to make them the best they can be. Start with the onboarding process and bring them into your company with open arms. Employees shouldn't be thought of as a "one job" employee. Instead, teach them every aspect of what your company does, and how they fill a little piece of the big picture. If an employee feels like they are an important part of the team, they are more likely to go out of their way to provide their best work performance level possible. It's not just a job – they enjoy what they do.
Also make sure you have a plan in place for what quality service means, and have a way to teach that process to your employees. Don't assume that employees retain the information from year to year. Update your training and provide new concepts to employees along the way. Remember, if you don't actively define what quality service means within your company, chances are your employees are using their own version. And more than likely the two don't align.
Talk To Your Customers
Customers will tell you what they think of your company, of your customer service process, and even offer suggestions for change. You just have to ask. Yet keep in mind that your customers are busy people, and won't give you feedback unless the process is easy.
Talking one on one is the easiest way. Wherever you have one on one contact with a customer, ask for feedback. What can we do to be of better service to you? What can we provide that we don't already offer? Simple questions can provide you with a world of information from very smart people that see your business through a different set of eyes.
Also remember that in this technology driven world, you can learn a lot by monitoring what people are talking about online. Do you have a Twitter account and use it well? Do you monitor review sites to learn of complaints? If you haven't taken to the online world to connect with your customers, it's time to learn easy ways to connect and stay in touch with the people that can have the biggest impact on your business.
Update Your Quality Service Tools
When was the last time you chose to work with a company and had complaints about the way the business functioned? We do it all the time. It's easy to look into another business and see ways to fix a problem when you don't live inside the business every day.
Turn those concepts back on your own business. Are you doing all you can to provide quality service every day?
Do you have user friendly websites that allow your customers easy access to the information they need most, both from the website and through secure logins
Do you have point of sale systems in place that make it easy for a customer to complete the sale both online and off
Do you have security features in place that protect customer information from potential hacks?
Think like your customer. Then service them in the same manner you prefer to be serviced by the companies you do business with. Quality service is an ongoing process. If you work at it a little each day, you'll keep your customers and employees happy for the distance.