Be In Touch How And When You Want
Cloud service business communication tools enable you to enjoy a consistent experience from your computer, tablet or phone. Draft a proposal in Docs at the office, review it on the train, then make final edits from your phone right before the meeting. We can assist you in managing all of your communication services so that you'll get more out of your workday: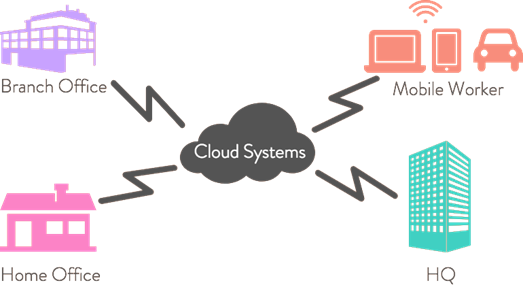 Messaging Services
Cloud based business email
Branded email @yourcompany.com
Real time document collaboration
Chat/Conferencing
Advanced security, auditing and admin controls
Mobile device management
All the storage you need
Archive all emails and chats sent by your company
Message archiving of all emails and chats sent by your company; legal holds as required
Hosted Phone Services
Cloud telephony (IP-telephony or VoIP – Voice Over Internet Protocol ) is an amazing use of technology and Internet that allows for telephone capabilities without necessarily having to support a premise-based phone system. This means that your staff can have access to full voice functionality, whether they are off premise or in the office. The hosted platform usually sits in the cloud and provides business continuity features that allow your organization to carry on making and taking calls, whatever the circumstances. This flexibility and savings is significantly more attractive than previous landline functionality.
Hosted telephony services ensure you maintain business as usual during any unexpected event.
The Benefit
Reliability -Access to systems wherever you are, whenever you want with whatever device you choose. The hosted platform simply sits in the cloud and provides business continuity features that allows your organization to carry on doing business, whatever the circumstances.
Cost Cutting - With most solutions, there is no major hardware investment and no financing costs to consider - it's pay as you go! The platform is hosted, and service adjustments and configurations are simple to make. Scale services up or down quickly and easily at any time.
Flexibility - Whether voice or data, system are usable and accessible wherever you need. Change configurations on the fly, set up rules to automate call or message delivery. Access services from multiple devices at once. You are in control.
Efficiency - With advanced functionality, you can automate incoming call routing, create web-forms for routing information to the correct group, leverage a document library… there are many possibilities to optimize and add efficiency to your processes.
Security - All your data is stored on high security cloud servers and access is via secure channels.