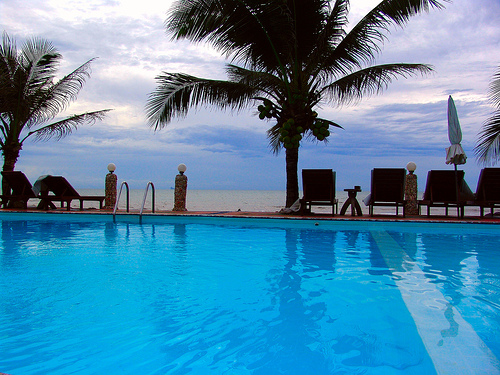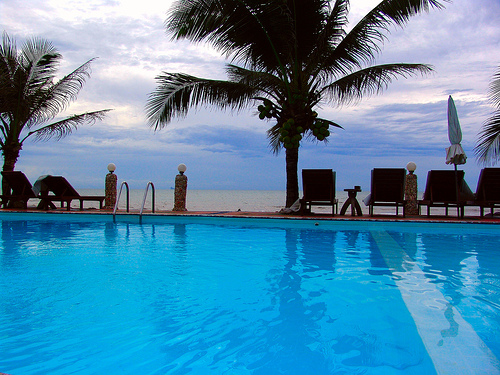 Photo courtesy of Martin Abegglen, twicepix
I wanted each of these posts to provide my readers with a unique insight or call to action. I hope that through my writings I can motivate some of you to make a small change that improves your business or life.
I wrote the title for this post before I had the content. I liked this title because everyone can immediately visualize the scene. You can see yourself lounging by the pool or dangling your legs in the water. You can feel the sunshine against your face. You can hear the water splashing against the pool wall or trickling from a waterfall. You can smell the fresh air and floral fragrances of the flowers flanking you.
This is a place where there is little stress and it is a place to recharge. It doesn't matter what you do by the pool: swim, sunbathe, drink colorful beverages, read, people watch, sleep or think. From all this, you come away recharged. Even if you're physically tired or exhausted at the end of the day, you're mentally recharged.
Take a minute to think about or imagine your favorite poolside experience. Maybe it includes a poolside pedicure or the cute wait staff never letting your glass get empty. Was there a little cabana with a big screen TV? Did you have the right tunes or the perfect book? I see myself playfully splashing water on my friends.
Whatever you did, I'm sure you felt relaxed.
That's my point. It's great to go to the pool. I encourage you to do this, or anything else that recharges you, as often as you can. And if the pool is several miles or several months away, you can bring the pool to you. Give yourself a ten-minute "pool" break everyday to recharge. Put it on your calendar. Relive your favorite recharge moments or preview the moments to come. See how it changes your stress level.