The Covid-19 pandemic has brought the entire global economy to a screeching halt. As we write this post, almost all major countries of the world are under lockdown, forcing everyone to stay indoors. Only essential services remain open and people have been strictly advised to stay within the safety of their homes. Our thoughts go out to everyone affected by the virus, especially our healthcare professionals.
Ever since we set foot in the digital age, a global shutdown of this magnitude has never been witnessed. Some countries of the world are entering their fourth or even fifth week of lockdown, with the end nowhere in sight.
This has brought businesses across the globe to a screeching halt. Nearly all sectors of the economy have been shut down to contain the rapid spread of this deadly virus among humans. So, the only viable option for businesses now is remote work.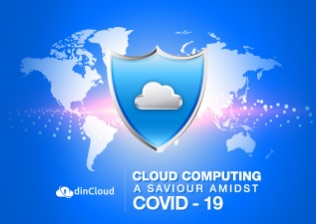 Covid-19 and Preparedness of Businesses
The Covid-19 pandemic has caught most businesses across the globe severely off guard. Nearly all businesses have some sort of a Disaster Recovery (DR) and Business Continuity (BC) plan in place, but a global pandemic has mostly never been a contingency.
Granted that the idea of remote work or Work from Home (WFH) is not new in some business sectors but the sheer scale of this remote work situation is beyond the capacity of even the most resourceful organizations.
Traditionally, not even 5% of an organization's total employees work from home, while the rest turn up physically to the workplace to perform their assigned tasks. So, most businesses were simply not prepared to cope with this rapid and massive change.
Cloud Computing as the Savior of Businesses
While cloud computing may not be the answer to problems of every industry such as the manufacturing sector, it has immense potential to serve your Business Continuity (BC) challenges amid this global pandemic.
The most vital goal in such circumstances is to resurrect critical business processes remotely, from the safety of homes. In these times when global supply chains are severely disrupted, organizations simply cannot set up in house infrastructure.
Even if you procured the hardware somehow, how would you find the professionals to set up your on premise hardware? Due to these circumstances, the Cloud has emerged as the true savior for millions of businesses across the globe.
dinCloud and Coping with Covid-19
Silver Linings Technology partners with DinCloud, a cloud transformation company that helps organizations rapidly migrate their IT infrastructure to the cloud. As a Premier Cloud Service Provider, dinCloud was well poised and fully prepared to fulfill the Business Continuity (BC) needs of its existing and new cloud users alike. dinCloud has a global data center footprint to serve cloud users at the global scale.
The company has a wide array of fully virtualized cloud solutions that include Hosted Virtual Desktops (dinHVD), Hosted Virtual Servers and Hosted Database Management Solutions. Each dinCloud solution has been designed to meet your diverse needs.

dinHVD – Hosted Virtual Desktops
This is the mainstream cloud solution offered by dinCloud that is at the forefront of your remote work needs. We offer a fully virtualized Windows 10 desktop experience in the form of dinHVD, that you can access over multiple device platforms.
Our HVD is accessible over a smartphone, tablet, laptop and desktop PC. All you need to get going is a login device, internet connection and a browser. Our HVDs offer a seamless desktop experience from the safety of your home.
To further serve your productivity needs at dinCloud, we offer fully virtualized, licensed and patched enterprise applications that are fully integrated in your Hosted Virtual Desktop – dinHVD. So, you not only remain safe but also fully productive remotely.

Hosted Virtual Servers by dinCloud
Data is a priceless commodity today and we at dinCloud are fully awake to your data management needs, especially in this crisis. We offer fully virtualized and secure data storage facility over our servers so that you can access data from anywhere.

Cloud Hosted Database Solutions
In times when most businesses are not allowed to open physical outlets, the only viable alternative is an e-commerce model for which you need a robust, responsive and reliable database solution.
dinCloud offers a fully virtualized database management solution that is purpose built to serve all your e-commerce needs. This will ensure that even in these times of severe liquidity crunch, you can still get some valuable revenue inflows with this model.

dinCloud and Cyber Security
Though ironic, it should not come as much of a surprise that cyber criminals are even trying to capitalize over this humanitarian and global crisis. This is supported by the massive surge in cyber attacks on organizations and businesses across the board.
This is yet another stark reminder that even in these times of crisis, we simply cannot let our guard down when it comes to a robust cyber security posture. dinCloud has a remarkable record in security and we employ a multi dimensional approach.
To secure your valuable data, we have a multi pronged security apparatus in place that is both robust and reliable. We rely on state of the art virtual firewalls, multi factor user authentication, malware protection and encryption to protect your data.
Once you entrust your valuable data to us, we at dinCloud will strive to protect it from all existing and emerging threats lurking around in the cyberspace. We are equally mindful of the physical security and safety of our datacenters.

Pricing at dinCloud
In these times of financial uncertainty and liquidity constraints, your every dollar is valuable and we are aware of that. dinCloud offers its reliable, secure and robust cloud solutions at some of the most competitive prices in the cloud computing industry.
The most tremendous aspect of dinCloud's solutions is that we offer a fully transparent, flat rate pricing model for our cloud solutions so that you know upfront exactly what would you be paying for, unlike some industry players that entail hidden costs.

Managing dinCloud's Solutions
At dinCloud, we truly believe in empowering our esteemed cloud users. With this in mind, we have designed a very intuitive and feature packed cloud management portal called dinManage. This is your one stop solution to managing all aspects of our solution.

Esteemed dinCloud Partners
Being a leading Cloud Solutions Provider (CSP), dinCloud enjoys respect in the cloud computing industry. A contributing factor to our sustained growth has been our collaboration with some of the leading names in the Cloud Industry.
Our esteemed partners include names like Citrix and Nutanix, which have earned a unique standing of their own when it comes to cloud powered technologies. To ensure highest standards of physical security of our datacenters, we have partnered with Equinox.

dinCloud and Post Covid-19 World
Till we find an effective and safe cure for the deadly novel Corona Virus, life may not return to normal as quickly as we think it would. Even if we start moving towards normalcy, the new "normal" may be quite different in the post Covid-19 world.
What this implies for businesses all across the globe is that their remote work needs are likely to increase over the next few weeks and months. Given their inherent advantages, cloud solutions may become indispensable for your organization.
In the context of sustainability, only those businesses survive such tough times that have the intent and capability to adapt. dinCloud's industry leading cloud solutions can prove to be the cornerstone of your Business Continuity (BC) and Remote Work (WFH) needs.
Silver Linings Technology is dedicated to making your life simpler and more effective. Let us know how we can help you make any transitions your business might need at this moment. Feel free to Contact Us for your remote work needs amidst Covid-19 and beyond. Our dedicated cloud professionals will chalk out a cloud powered solution that is must suited to the unique needs of your business or organization. Our business model, storing our data in the cloud and promoting working offsite, has ensured that during this time we will be able to provide you with consistent service.