Whether you run a small office with just a few staff members sitting around you, or you're in charge of dozens of employees in several locations throughout the world, one of your job duties is to continue to have a firm grasp of new technology.
New technology affects everyone sooner or later; we see it every day. It can be something as simple as understanding a new privacy policy issued on a social site like Facebook. Or it could be integrating an entirely new program throughout the company, run exclusively with handheld technology. Some ideas are hyped as the next biggest technology tool ever, yet just as quickly fade into neverland. And some ideas will develop into the biggest industry standard that will impact businesses far and wide for years to come.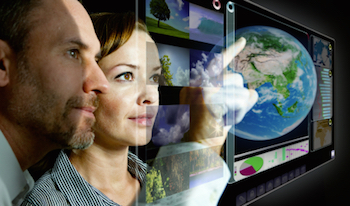 How do you know the difference? How do you stay on top of it all, perform all the duties of your full time position, and still have a little time left over for the things you like to do?
Unquestionably, it does seem to get more difficult all the time. Yet as a participant in today's global economy, its more important than ever to stay on top of technology; you simply don't have a choice if you want to stay relevant in the workplace. You don't have to work 24/7 to do it; with three easy steps, you can consciously stay on top of the latest tech trends.
Experience It
Imagine sitting down and reading a manual on how to fly an airplane. In it you'll find a step by step program that tells you all about the inside of a plane. You'll learn about what happens when you pull every lever, turn every knob, flip every switch, and what gauges should register at in order to stay in the air.
You can even take it a step further and add a few controls to your reach through a simulator. You can sit in the pilot seat, interact with the program, and watch it all unfold around you on a screen.
But none of that is the same as experiencing it. Would you jump into a plane, just you and this new pilot who only completed the above training, and trust him to get you up into the air and back down again safely?
Sometimes the only way to stay on top of technology, to really understand its true power, is to experience it. If the trends show more people in your community are using mobile devices to run daily operations, there is a reason for it. If more of your staff is requesting wearable technology, there is a reason for it. Don't ignore what statistics show is entering our society in a big way.
Find Your Sources
Information is just a click away. Blogs, sites, newsletters, posts, feeds; there's no ignoring the amount of content ready and waiting for you all the time.
While it's difficult to find an actual number that defines how many websites are currently online - the number changes all the time - according to some statistics, the number rose well beyond the one billion point in 2014. Over one billion domain names are in existence: that's a lot of sites!
Obviously, there is no way to stay on top of all of this information, nor should you even try. But you can be selective about what information you do follow, knowing that once you find a great resource, reading it should be a part of your regular routine. Here are a few of my favorites:
LinkedIn – Not only can you find great information shared by your friends and colleges, you can join groups to network with as well.
FastCompany – A business magazine filled with business, management and technology related articles.
TED – Ideas Worth Spreading is their tagline; you'll find short, informative videos that will entertain and educate you on a wide array of topics.
MeetUp – Find a local group to network with – it's a great way to gather and stay abreast on the latest trends.
Trust The Expert
Finally, never forget you have great resources all around you. Collaborate with interesting people both in your workplace and in industry specific groups. Start up conversations with people that have both experience and vision. Take someone out for coffee or lunch to understand more about what they do.
And when you have very specific questions, give me a call. No question is too large or too small. In fact, some of the questions that seem the simplest may have the largest impact on your business.
With technology, there is no holding back. If you hold back, assuming you'll pick it up down the road, you can easily be left behind. Technology builds on technology; one step always leads to another. The more up to date you stay, the more you invest in today, the more you'll be ready for tomorrow. And if you use these three tips to stay ahead of the game, you'll be surprised at what may be waiting for you around the corner.